Classmate News
Gisela Krajewski Holtz (January 2012)
I became a grandmother for the first time this year. My oldest son Mike got married in 2010 and they had a baby in October of this year. Her name is Oliviah Halo Holtz. The family lives on the other side of the state so I don't get to seem that often and I really miss her. I make them send me lots of pictures. My New Year's resolution this year is to write a small book for Oliviah that tells some of our family history. My mother loves to tell stories about all she went through as a child during the war so I have lots of things to share. I've already given her the ancestry line on her grandfather's (Steve Holtz) side which goes back to John and Priscilla Alden who came over on the Mayflower. She's a very precious little girl. My other news is that I had to start a new job as my position at the bank had been eliminated after my boss retired. Lots of people got let go so it was not an easy time. I currently work at Whirlpool and am happy to have a job during this economy.
I'm looking forward to hearing from you so I can share your news with other classmates also.
+++++++++++++++++++++++++++++++++++++++++++++++++++++++++++++++++++++++++++++++++++++
Steve Bannow (January 2012)
After three months in New Zealand, five months in Australia, and an incredible follow-on journey through SE Asia (Indonesia, Singapore, Malaysia, Thailand, Cambodia, Laos, Vietnam, and Hong Kong), I came back to Florida (via Vancouver, BC) to take a job as Dean at Pensacola State College. (I returned to the US with incredible memories of a truly life-altering experience and with a number of new life-long Friendships that mean "the world" to me.) Returning at the end of July was a major change in my plans to travel for 2 1/2 plus years, but it was a decision based on an offer that I simply could not refuse. I accepted the position only after informing the administration that I was willing to stay for no more than eighteen months -- finishing up at the end of January 2013. Then it will be back on the road for a return Downunder and a continutaion of travels to new places.
I continue to teach at least one class per term at the College, and I have returned to writing. I am working on a collection of what I call "proems" (short to medium-length pieces that combine elements of prose and poetry), I am in the middle of editing a book (the first in a series of three), and I finally started a long overdue project (a screenplay about one of America's best-known authors). Have incorporated yoga into my otherwise rigorous workout regimen - largely due to the influence of a lovely relatively new woman in my life. And, by the way, I remain an avid Detroit Tiger fan!
As you probably know, I have never known the joys of parenthood, so I have no stories about children or grandchildren to share. That said, my sister, Elissa, and her children (3) and grandchildren (4) are all happy and well.
I think of all of the BHHS Gang - often - and find myself sharing high-school stories with old Friends and new ones wherever I go. I look forward to seeing everyone again at our next reunion. Believe me; I will be there ... no matter where my travels take me and no matter where I may be living at the time.
My very best wishes for happiness, good health, and peace to all.
+++++++++++++++++++++++++++++++++++++++++++++++++++++++++++++++++++++++++++++++++++++

Elva Bradford Claybrook (January 2012)
I am so very glad I am retired.
I am trying to learn how to make a quilt, so if you have any tips I would love for you to share them.. will let you know if any excitement happens here.
Not a grandmother yet, I am still waiting. My daughter says soon so in the meantime she's my baby and i enjoy being with her.
+++++++++++++++++++++++++++++++++++++++++++++++++++++++++++++++++++++++++++++++++++++
Linda Miller Champion (January 2012)
I am no longer working. The company for which I was the Operations Manager closed almost three years ago, so I have been a homemaker since that time, and enjoying it. I do have a website that sells wedding, bridal and baby shower favors and enjoy that as well. The site is www.wedding2babyfavors.theaspenshops.com, so if any classmates are putting on a wedding, or planning showers, be sure to visit our site for a great variety of gifts and favors.
We are very blessed with three great adult children and their spouses, as well as three grandchildren (2 boys and a girl). Our daughter, Amy and her husband, Travis are expecting their second child in June of this year, so we will welcome a fourth grandchild at that time.
Joe and I celebrated 40 years of marriage on September 11, 2011. We went out to dinner with our siblings and their spouses who live in the area on that date, but our main celebration was a trip we had trip planned with our children and grandchildren in Maui in early December. 2011. We had a wonderful vacation with our family and enjoyed all of the beautiful sites and adventures that Maui has to offer, first and foremost, their gorgeous 80 degree temperatures. We spent countless hours at the beaches, attended the luau at the Grand Wailea Resort, went whale watching (and saw whales even though it was early in the season), the guys golfed a couple of times, and the girls enjoyed a spa day. My former boss and her husband live in Maui, and had invited all of us to their home for dinner. They also surprised us with a Hawaiin Minister who was there to bless our marriage in a Hawaiin ceremony and had us renew our wedding vows. It was so special for us as our children and grandchildren were all there to witness this.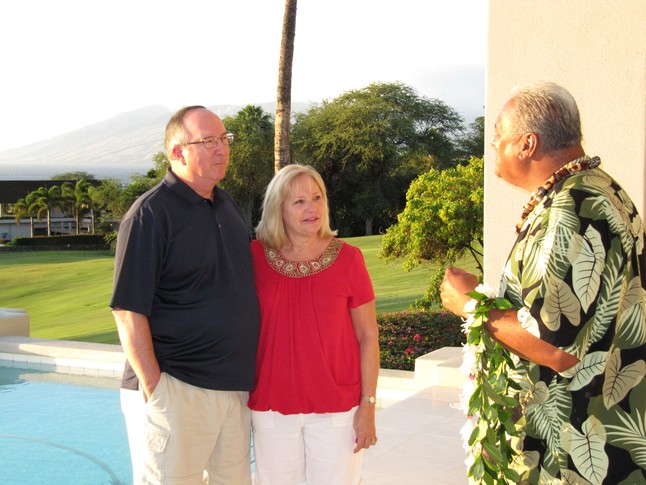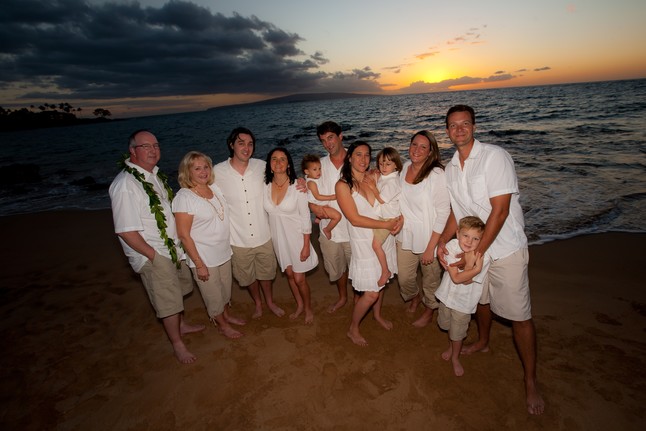 I can remember when my parents were in their 60's and how old that seemed to us back then, and here we all are now. We are thankful for good health, a great family and so many wonderful friends. We count our blessings each and every day and thank God above for watching over us.
++++++++++++++++++++++++++++++++++++++++++++++++++++++++++++++++
Nancy Burns (January 2012
2011 was a good year for us. Ben and I both had some health issues, which one can expect as we get "older", but everything is good now. In April our oldest daughter and her family moved to Florida from Ohio, so now both of our children and all three of our grandchildren live in the Orlando area. What a joy!
In the spring I portrayed a mean school principal in a docudrama, "Overruled." The subject of the docudrama is proposed Constitutional amendments for parental rights. If you want to see it, you can go the website www.overruledmovie.com. That was wonderful, eye-opening experience. I was definitely pushed outside my comfort zone, but it was so rewarding.
In November Ben and I took a road trip to Hohenwald, TN, to spend Thanksgiving with my brother and his family. My brother drove to Little Rock and brought our mother to TN, also. It was the first time in many, many years that we all spent Thanksgiving Day together. I treasure the memories we made.
One more highlight of the year was finding a new church. I was very active in Worship Arts (praise team, choir, drama) at my previous church, but toward the end of 2011 I felt a leading to move on and return to my Pentecostal roots. Ever since the week before Christmas, I have been attending Treasure Coast Assembly of God. I'm settling in and getting acquainted with my new church family and looking forward to a bright and happy 2012!
+++++++++++++++++++++++++++++++++++++++++++++++++++++++++++++++++++++++